Latemp Graphics
Here one can find Latemp Graphics. All the graphics here was created using Inkscape - a cross-platform vector graphics editor.
Latemp Logo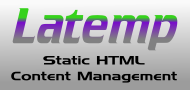 This is the Latemp logo. Also available is the source in SVG Format.
Latemp Buttons
Here are some buttons that you can use to link from your Latemp created site back here. Here are the SVG files:
Latemp Sticker Button

This is a sample sticker button for Latemp created using Adam Kalsey's Button Maker.